Telehealth for Rehab in a COVID-19 World
New CPTs and Reimbursement for Telehealth Rehab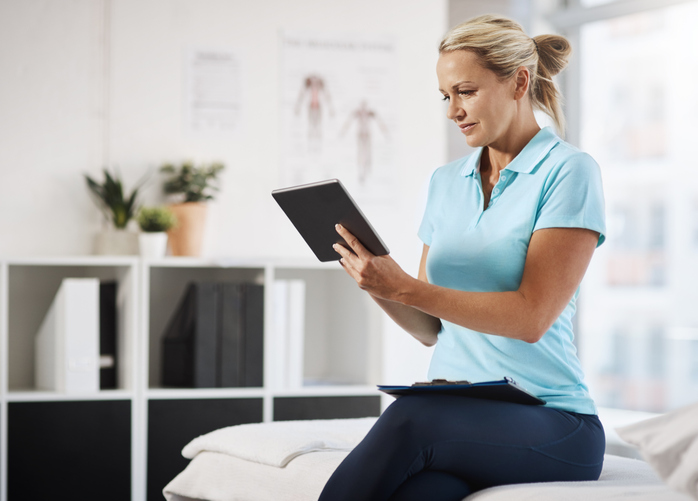 The outbreak of the COVID-19 pandemic has swiftly and significantly affected nearly all areas of daily living right now, not the least of which are the normal business operations and workflow for many Physical Therapists and Occupational Therapists and their practices.
This is true for a few reasons. First, states all over the country are closing schools and "non-essential" businesses—which explicitly excludes hospitals, pharmacies, grocery stores, and gas stations—in an effort to control the spread of the novel coronavirus.1
 Such drastic but necessary measures stand to directly affect PTs and OTs in certain settings, such as schools and stand-alone or hospital-affiliated outpatient clinics.
This, too, is all in an effort to curb the spread of the novel coronavirus. It includes such measures as maintaining six feet (1.83 m) away from other people, staying at home, and canceling or postponing upcoming social events, everything from private weddings to even the 2020 Tokyo Olympics.3,4 (And, presumably, many PT and OT appointments).
This brings up many concerns for rehab professionals. Physical Therapists and Occupational Therapists work in an extremely hands-on environment with multiple people on a daily basis. At a time when people are being told to stay home and avoid close contact with out-of-household people, the inherent model of the allied health professions can seem completely at odds with these recommendations.
Could something as simple as an evisit or telehealth be a potential solution to this current challenge? And would this even apply, legally and logistically, to physical therapy and occupational therapy?
Out of respect for community and global safety, these are certainly important questions, especially given that many PT and OT clients are considered higher risk for COVID-19 and complications (older and/or living with underlying comorbid conditions).5
Let's explore these questions now.
Evisits and Telehealth
The precedence of telehealth and evisits has already been set in other medical fields, including general family practice and psychotherapy6. These concepts are defined as follows:
An evisit, according to the American Academy of Family Physicians, an evisit is "an evaluation and management service provided by a physician or other qualified health professional to a patient using a web-based or similar electronic-based communication network for a single patient encounter."7 The term is generally used to describe a specific encounter transmitted electronically between provider and patient.
Telehealth: the definition of telehealth from the Health Resources Services Administration is " the use of electronic information and telecommunications technologies to support long-distance clinical health care, patient and professional health-related education, public health and health administration."
Included in this definition is internet and video streaming and wireless communication used to provide clinical and non-clinical services such as continuing education and provider training.8 In other words, many PTs and OTs are already using telehealth, even if they don't realize it.
Telehealth for rehab during the COVID-19 pandemic
These concepts, especially telehealth, have slightly different definitions depending on the source, but both may apply to PTs and OTs, although there is certainly some confusion, especially in light of the COVID-19 pandemic.
Currently, there are state-by-state regulations regarding billing of telehealth services (including evisits) for physical therapists and occupational therapists. Most states have telehealth policies, but many of these policies do not include allied professional providers.9
According to March 16, 2020 report from APTA, "[p]hysical therapists are not included as a provider type that can furnish telehealth as a covered service to Medicare beneficiaries" under Congress' new COVID-19 related legislation, which was signed into law early in March, although some cash-based clinics may already be using telehealth models more frequently.10,11
When communicating with payers or your state agency about telehealth, APTA strongly urges PTs to get a clear understanding of what they can and cannot bill for and perform. They recommend asking the following questions for clarification12:
Will physical therapy services provided by PTs and PTAs be covered if provided via telehealth? If so, what codes and modifiers are required for billing?
What devices and applications can be used for telehealth?
Is there any special documentation or consents required?
Telehealth billing codes according to AOTA
Meanwhile, according to AOTA, occupational therapists were included as one of the provider types who may bill for e-visits under the new expansion of Medicare telehealth coverage in response to the COVID-19virus.11,13
In light of the COVID-19 pandemic, OTs can bill for evists using the following Medicare G-codes:
G2061, qualified nonphysician health care professional online assessment, for an established patient, for up to seven days, cumulative time during the seven days; five to ten minutes
G2062, qualified non-physician healthcare professional online assessment and management service, for an established patient, for up to seven days, cumulative time during the seven days; 11–20 minutes.
G2063, qualified nonphysician qualified health care professional assessment and management service, for an established patient, for up to seven days; cumulative time during the seven days, 21 or more minutes.
OTs can also bill for evisits using the following CPT codes for private payers:
CPT 98970, qualified nonphysician health care professional online digital evaluation and management service, for an established patient, for up to seven days, cumulative time during the seven days; five to ten minutes
CPT 98971, online medical evaluation for 11 to 20 minutes
CPT 98972, online medical evaluation for 21 or more minutes
Some exceptions apply. For instance, initial contact must be established by the patient (not provider) prior to beginning evisits. As noted by the AOTA, the American Medical Association further dictates that "if the [patient]'s inquiry is related to a condition that was treated in-person in the office within the past 7 days, the online service is not billable. Also, if the client comes into the office within 7 days of the inquiry related to the same condition, the online service is not billable."13
CMS frequently provides updates to reimbursement, like the recent changes to SNF reimbursement and revoking the ban of same-day evaluation and treatment. With this ongoing situation, providers are recommended to check with CMS, APTA, AOTA, and their state agencies for updates.
How clinicians can navigate the world of COVID-19, telehealth, and beyond
Even without the unfortunate and uncertain incident of a global pandemic such a COVID-19, telehealth has been expanding in multiple healthcare fields already. This is a trend likely to continue.
While more research should be done to investigate the efficacy and ethical considerations of telehealth and evisits for the PT and OT professions, practitioners in the meantime can at least optimize their approach to care in the face of so much uncertainty and physical distancing:
Emphasize to patients the importance of home exercise programs and consider discussing plans for maintaining accountability with the patient and caregivers (e.g., self-journaling, provider/patient email communication)
When patients cancel due to social distancing and/or when local or federal regulations prohibit clinic visits be prepared to offer reputable resources for additional HEP programs (such as MedBridge, HEP2Go, and Healigo) to further enhance patient progress and rehabilitation
Use the clinic website and social media platform to share general audio and written information with patients
These are unusual and uncomfortable times. Like all industries, healthcare is feeling the upheavals triggered by the COVID-19 pandemic. By supporting each other and staying connected, we will get through this period of uncertainty as a community.
Subscribe to TherapySpark today for more rehab resources, news and insights, by rehab professionals, for rehab professionals.
References
Booker, B. 2020. Virginia Ends School Year; States Order Businesses To Close As Virus Spreads. NPR. https://www.npr.org/sections/coronavirus-live-updates/2020/03/23/820179556/as-virus-spreads-maryland-massachusetts-order-nonessential-businesses-to-close.
Hart, M. 2020. WHO Changes 'Social Distancing' to 'Physical Distancing'. The Nerdist. https://nerdist.com/article/social-distancing-changed-physical-distancing/.
2020. Coronavirus disease (COVID-19) advice for the public. World Health Organization. https://www.who.int/emergencies/diseases/novel-coronavirus-2019/advice-for-public.
Brennan, C. 2020. IOC member says 2020 Tokyo Olympics will be postponed because of coronavirus pandemic. USA Today. https://www.usatoday.com/story/sports/olympics/2020/03/23/olympics-2020-ioc-member-tokyo-games-postponed-dick-pound-coronavirus/2899848001/.
2020. Are You at Higher Risk for Severe Illness?. Centers for Disease Control and Prevention. https://www.cdc.gov/coronavirus/2019-ncov/specific-groups/high-risk-complications.html.
Ballie, R. 2001. Medicare will now cover some telehealth psychotherapy services. American Psychological Association. https://www.apa.org/monitor/nov01/telehealth.
2018. Virtual e-Visits. American Academy of Family Physician. https://www.aafp.org/about/policies/all/virtual-visits.html
2019. What is telehealth? How is telehealth different from telemedicine? Health IT. https://www.healthit.gov/faq/what-telehealth-how-telehealth-different-telemedicine
Bierman, RT, Kwong, MW, & Calouro, C. 2018. State Occupational and Physical Therapy Telehealth Laws and Regulations: A 50-State Survey.Internatonal Journal of Telerehabiltiation, 10(2): 3–54. https://www.ncbi.nlm.nih.gov/pmc/articles/PMC6296796/
APTA. 2020. Telehealth in Physical Therapy in Light of COVID-19. PT in Motion. https://www.apta.org/PTinMotion/News/2020/3/16/TelehealthCOVID19/.
Lyon, S. 2020. Telehealth Coverage for Occupational Therapy. OT Potential. https://otpotential.com/blog/telehealth-coverage-for-occupational-therapy.
APTA. 2020. Asking the Right Questions About Telehealth. PT in Motion. http://www.apta.org/PTinMotion/News/2020/03/23/QuestionsToAskAboutTelehealth/
AOTA. 2020. AOTA Update: CMS Expands Therapy E-Visit Services During COVID-19 Outbreak. American Occupational Therapy Association. https://www.aota.org/Practice/Manage/telehealth/Nonphysician-Evisits.aspx.
---